Have you upgraded to windows 11? Even if you are a Windows 10 user, you might have noticed that iconic games Windows 7 are missing. And you can't find them.
Do you want to play Windows 7 games?  If yes, read this article till the end. Here, we'll guide you to get Windows 7 games for Windows 11.
Windows 7 Games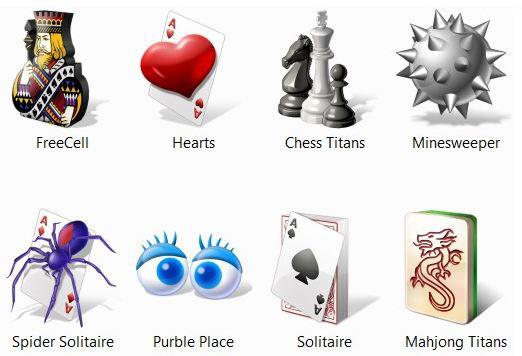 When we used to have Windows 7 on our PC, there were many built-in Microsoft games. Most people might remember the Miniclip games on their windows. Playing Windows 7 games at that time was a different kind of fun. Some classic iconic Windows 7 games are Solitaire, Mahjong, Chess, Hearts, Minesweeper, Purble Place, Spider Solitaire, etc.
Do you miss those games right now in your latest windows? Don't worry. You can install and start playing Windows 7 games on windows 10/11.
Windows 11
Microsoft bought Windows 11 concerning security and making it able to run Android apps on Windows. The company offered free Windows 11 upgrade for Windows 10 users. Many people did not like the update because it didn't have any helpful new features, only UI changes. Later, people realized about running Android apps on window 11.
After many questions and queries on windows 11, Microsoft answered that Windows 11 is all about security. By not clinging to the topic "Why Window 11?" let's move to the actual topic.
So, Windows 7 games were enjoyable to play. However, it was removed from Windows 8 OS. Similarly, Windows 10 and now Windows 11 don't have those classic games from Windows 7.
Many of us want to play Windows 7 games on Windows 11. We can play a few of those iconic games right now on windows 10 and 11, but we need to download and install Windows 7 games package. It is available on the win7games website. They have modified the package to become compatible with other Windows versions as well. Let's go through step-by-step instructions to install Windows 7 games on Windows 11 or 10.
Also Read:
Get Window 7 Games For Windows 11
First thing first, you will need the Windows 7 games package file. You can download the zip archive file from the Win7games.com website. You will see the "Download Games" button in green color in the middle of the article.
A zip file named Windows7Games_for_Windows_11_10_8 will be downloaded on your computer.
Extract the file by right-clicking and "Extract all" or "Extract Here" or "Extract files…".
Double click on the application file as you get it. It will open the package setup window tab.
Setting up and Installing the package
A window dialog box will ask to choose a language as you double click. You can choose English or any other language that you are comfortable with. And then click on the "OK" button to proceed forward.
2. Another dialog box with the list of available games in the package will appear. Simply, click on the "Next" button.
3. From the given list of games, you can select the checkboxes respective to the game names you want. Games like FreeCell, Hearts, Chess, Mahjong, Purble Place, Solitaire, Spider Solitaire, and Minesweeper are pre-check (pre-selected)
4. You can uncheck them if you don't want them. And check the "Internet Games" option, which includes Internet Spades, Internet Checkers, and internet Backgammon. However, those games might not be running smoothly as Microsoft has removed the main server of those games.
5. After game selection, click on the "Install" button. This will install the games on your computer.
6. Then, click the "Finish" button.
All steps to set up and install Windows 7 games are completed. Now, you can start playing Windows 7 games that you have just installed in your windows 11 or 10 or 8.
Also Read:
Is the file genuine?
Winaero or Win7games has provided the genuine file to install. It is completely safe to install and run on your PC. You can also check and verify the downloaded file. The installer file should have "MD5: 708d12491aaa472f0bf498544c03e4b0" and "SHA256: 1a8199a2d52b54019b2353b838c6bede5234ebcf8e2615584ede11d71de1e1f0".
Uninstall Windows 7 Games on Windows 11
Sometimes, it is just a short period of want and desire to have something. Playing Windows 7's classic iconic games might be a short-term desire as well. You might not want to play more anymore. In that case, you can ignore the installed games or simply uninstall them to save space on your device.
So, to uninstall the games, you can follow the steps below:
Uninstalling an app is easy in Windows. You can uninstall from the setting itself.
Open the settings on your PC. For that, you can press "Windows Key" on the keyboard or click on the windows icon on the taskbar. Navigate to "Settings."
On the "Settings" window, click on the "Apps" option.
Inside Apps & Feature, you will see lists of applications and software installed in your PC.
Search for the name "Windows 7 Games for Windows 11, 10, and 8". Then click on it. The "Uninstall" option will appear.
Just click on the "Uninstall" option, and then it will remove the package from your device.
Uninstalling apps are the same for other applications on Windows.
Note: Remember you can't uninstall only a few of the games that you have installed. You will need to uninstall the entire games package. Then you can re-install by selecting only games that you want.
So, it is pretty easy to get Windows 7 games for windows 11 by only downloading a package and installing it. You can play those games safely without a problem.
FAQs
Can we play Windows 7 games on Windows 11?
Yes, you can play Windows 7 games on Windows 11. Also, Windows 10 and Windows 8 users can play Windows 7 games. For that, you have to install the win7games package.
How do I download games on Windows 11?
You can download the Windows 7 games in Windows 11 from the Win7games website. The link is provided in the article above.
How do I get Windows 7 games on Windows 10?
Win7games.com has modified the game file to install and play Windows 7 games in Windows 10 and 11 from the same file.
What games are available on Windows 11?
Windows 11 doesn't come with pre-installed games. However, there are games available in Microsoft Store which you can download and enjoy. Also, Windows 7's iconic games are available but in newer versions. You might not get those nostalgic feelings.
Hope you like this article. We have more articles on this website and will be writing more, so you can follow us on Facebook to get updated. Thank You for reading!